It was only with this ethical demand of the great classical composers, which was aimed musically at a contrapuntal thematic working of the smallest musical elements – the natural elements of the microcosm of music, that the "dramatic", the "natural" and the "democratic" moved into symphonic creation.


"Sending light
into the depths
of the human
heart –
the artists vocation."
Schumann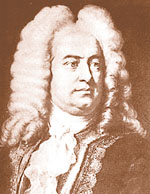 "When the blind
leads the blind,
both fall
into the hole."

Händel
A lack of recognition of this natural democratic musical drama by means of the counterpoint – which, with the appropriate musical mastership, also spatially and temporally integrates and so harmonises the most opposing musical elements – means that some of today's musical interpreters still only understand the dynamic: the externalised volume as the fundamental dramatic feature of the music - like the domestic bully thinks he can rule within the confines of the household with the help of his booming voice and by asserting his physical strength.

Haydn later described his symphonies as "moral characters" and in them, he outlined the ethical obligations and responsibilities of the composer and the musician in the area of humanity.