"He who is still
so lacking in Humanity
is not free
to enjoy civil Liberty."

Schiller
He saw this phenomenon – like Mozart and Beethoven later would – as the most important criteria of all things symphonic: the thematic work from and with the theme or the motif, a work which was not a matter of placing in series numerous ideas, but of thematic concen-tration and intensification.
He revealed this principle impressively in his Sun Quartet, where he ventured through the theme and the motif to the interval – that is, he worked forward systematically in line with the natural structures of the microcosm of music.

Thus it is then no coincidence that – concurrent with Johann Sebastian Bach, by the way – also these three later great masters of music – Haydn, Mozart and Beethoven – recognised and implemented the fugue and the thematic work with the smallest musical units as the best means for the intensification and the integration of the musical evolution for the benefit of natural humanity.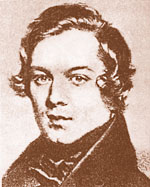 "Talent works,
Genius creates."

Schumann